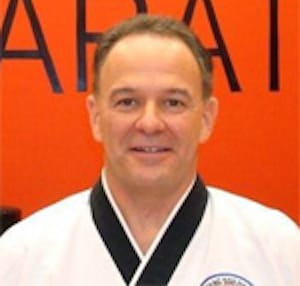 Scott Sandt
Studio Manager and Master Instructor
Mr. Scott Sandt began his martial arts training in Tae Kwon Do, back in 1992. He started his training with his son, Mr. Lee Sandt and then a year later his youngest son, Mr. David Sandt started training.
In 1995 Mr. Scott Sandt started training in Tang Soo Do; he is currently a 4th Degree Master Instructor in the World Tang Soo Do Association. Mr. Scott Sandt also trained in Shute Fighting a style that consists of striking and ground defense. His latest Martial Arts goal is to earn his Black Belt in Brazilian Jiu Jitsu. He is now a Purple Belt under Professor Paul Creighton.
Mr. Scott Sandt began teaching martial arts to youth and adults back in 1997; he is currently an Internationally Certified Instructor with the World Tang Soo Do Association. Over the years Mr. Sandt has trained students from the age of 3.5 to 62 years old using a positive reinforcement style to encourage students to reach their fullest potential.
He has set a goal to train all students to Black Belt and beyond. Because of Mr. Sandt's passion for teaching the martial arts he has produced over 240 black belts from 1st degree up to 3rd degree, with many more still to come. This could not have happened without the help of the excellent Internationally Certified Instructor team here at Rock Solid Karate.
Mr. Scott Sandt came up to the Oakwood / Gainesville, Georgia area on January 20, 2001 and opened Karate World of Oakwood. His dream was to someday design, build and own a state of the art training facility. This dream became reality in September of 2007. The new 8400 sq. ft. building known as Rock Solid Karate had its grand opening. It is the state of the art ôFamily Martial Arts Training Center in North Georgia.